Thank you for your purchase of a Sova Sleep System
Araam has been manufacturing Sova mattresses and foundations for over 20 years, using high-quality certified materials. Please take a few moments to read the care instructions outlined here. A little extra attention now will allow your new sleep system to provide you with a relaxing and rejuvenating night's sleep for many years to come.
To maximize the quality and comfort of your sleep, Sova recommends the use of cotton bed linen which will help regulate your body temperature.
Do remember to invest in a good-quality mattress protector to ensure a fresh and hygienic night's sleep.
Your mattress and/or topper may have compressed slightly during transportation. This is perfectly normal, and it will soon resume its natural shape and size.
Once unwrapped, leave the mattress uncovered for a few hours to let it breathe.
You may notice a slight odor after the mattress has been taken out of its plastic packaging. The fill layers may occasionally release a smell, but it is no cause for concern. It will dissipate once the mattress has been well aired.
By taking regular care of your bed during your waking hours, you can be confident that your bed will continue to take care of you while you are asleep.
Please take note of the below on how to care for your mattress to ensure it continues to provide comfort and support for a deep, restful sleep.
We strongly recommend the use of a high-quality cotton or wool-faced mattress protector under your bed linen to protect your mattress from spills, stains and to promote proper hygiene. Avoid plastic-based, non-breathable types or any other form of plastic sheeting, as this will tend to trap condensation and risk potential mould growth.
Failure to use a mattress protector could invalidate the guarantee.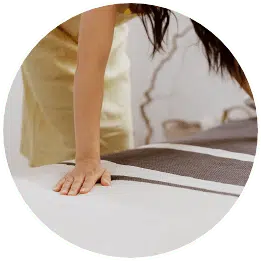 Most people tend to sleep in the same position on their mattress every night. Body impressions are therefore a normal occurrence and a positive indication that the generous amounts of fills used in Sova mattresses and toppers are conforming to your body's unique shape, weight and sleeping pattern.

These layers will settle and dip in the area where you sleep, which can leave a ridge in the center of the mattress (this will be more noticeable in larger mattresses).

 

Your mattress must be rotated and turned as indicated below to minimize body impressions.
Rotating and Turning your Mattress
Rotating and turning the mattress over periodically (as appropriate based on the mattress model) will encourage the fill layers to settle more evenly.
How to rotate Non-flip Mattress
How to rotate a Two-sided Mattress
Simply rotate your mattress end-to-end once a week during the first 3 months, and thereafter with the seasons.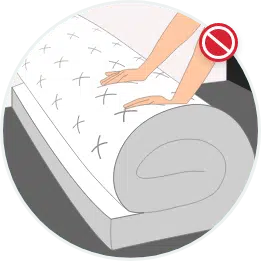 Never attempt to fold or roll your mattress, even for a short period of time.
Your mattress is designed and constructed for use only in a flat position. Always store your mattress in a flat position. This also applies if you are transporting your mattress, for example, when moving to a new home.
In the case of zip and linked beds, please unfasten the mattress before rotating and turning.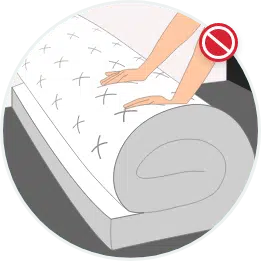 Never attempt to fold or roll your mattress, even for a short period of time.
Your mattress is designed and constructed for use only in a flat position. Always store your mattress in a flat position. This also applies if you are transporting your mattress, for example, when moving to a new home.
Warning
You should not attempt to turn or rotate the mattress by yourself. We recommend that you seek assistance. Apart from the risk of personal injury to yourself, you also risk damaging the inner springs should you bend or roll the mattress. This would invalidate the guarantee.
Airing your Mattress and Topper
It is important to let your mattress breathe to allow body moisture to dissipate.
Air your mattress at least once a week for few hours by simply leaving the bed linen turned back to allow air to circulate around and through the mattress.
This process can be enhanced if the air circulation inside the bedroom can be elevated by opening windows and doors where possible.
Clean your mattress every other month with a soft brush or a vacuum cleaner to keep it clear of dust and fluff – take caution to use a handheld vacuum cleaner with the upholstery attachment to prevent damages to the mattress and reduce disturbances to the fills inside.
Treat spills and stains immediately using dry towels or paper towels.
Spot-clean stains as soon as possible with water, appropriate stain remover, clean laundry brush or a soft towel. Avoid over spraying water or stain remover liquid on the mattress as the liquid may seep deeper into the mattress and retain moisture if not aired properly.
Rubbing hard on the fabric when cleaning may damage the fabric. Use gentle but firm strokes in one direction to minimize damage when removing stains.
To maximise the consistent shape and support around the perimeter of your mattress, please do not sit on the edge of the mattress for prolonged periods of time.
Please do not stand on your bed or allow children to treat it as a trampoline – this applies equally to the mattress and the base.
Do not remove any sewn-in labels – these contain care, quality and content details vital to the guarantee.
Use a suitable supportive base
If your mattress is intended for use on a different base, other than the same base tried in store, then the level of final comfort and support could vary.
We recommend that you do not use a new mattress with an old base or an old bedstead, which incorporate a spring-system (either metal springs or spring slats). An imperfect base, with a worn and tired spring-system, will provide a reduced level of support and could result in premature mattress wear and invalidate the guarantee.
Where a bedstead with a slat system is being used, ensure that the slats are not more than 7.5cm (3 inches) apart. If a wider gap exists between the slats, it is recommended that a 'bedstead mattress base' be used between the slat system and mattress. Failure to take such action may result in premature wear on the mattress.
From time to time, you should also check that all screws for castors, feet, linking bars and the headboard are secure to avoid undue strain on the base.
To demonstrate our commitment to quality and customer service, Sova offers a 5-year warranty on your mattress.
The warranty covers only faulty workmanship or structural defects of the mattress.
The Araam Inc. warranty is not extended to cover normal wear and tear.
Under the law, the Contract of Sale exists between the retailer and the consumer. Consequently, any claims made under this guarantee must be made through the retailer from whom the bed was purchased. If your retailer is no longer in business, then please contact Sova authorized manufacturer, Araam Inc. at

info@araaminc.com

The claim must be supported by proof of purchase – original invoice or sales receipt.
Your mattress will be repaired or replaced at Araam's discretion, with no additional cost within the 5-year period, subject to review and evidence that your bed has been properly maintained as per care instructions.
Following a repair, the guarantee will remain valid from the date of the original purchase.
This warranty is not extended to mattresses or bases which have been damaged through unreasonable or improper use; are accidentally damaged (including unauthorized repairs or alterations); are in a soiled or unsanitary condition or are willfully damaged.
The customer will bear responsibility for all freight charges.
This guarantee is not transferable.
This guarantee does not affect your statutory rights.