How to Choose a New Mattress
Investing in a mattress requires a great deal of consideration,

as you spend almost a third of your life sleeping.
Therefore, it makes sense to consider how well suited the bed is for your body type, your sleep preference, comfort, and durability of the product, as well as benefits to your overall health and sleep quality.
Think about the attributes of the bed that you would like. What do you like or dislike about your current bed? Do you like a soft or firm feel? What size, style, or comfort feel do you prefer?
Choosing a mattress is a very personal decision. The basic rule: spend as much as you can afford. A lower priced mattress will always be preferable to a secondhand mattress. However, construction and the type of fillings they have are important for durability, support, comfort, and health issues. It is also vital to consider the longevity of your product and benefits over time.
Most mattresses need to be turned regularly to ensure even wear and tear. However, mattresses can be quite heavy, and you should take this into consideration.
Buy as big a mattress and a matching bed frame as you can fit in your bedroom. The larger the bed the more room there is to move about thus largely reducing disturbance for you and your partner.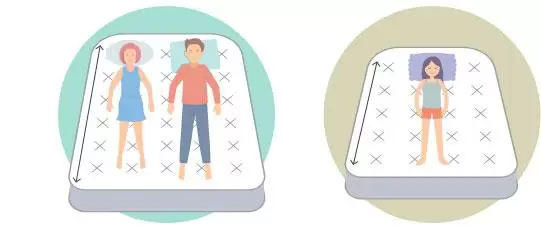 Ideally a bed should be at least 4-6 inches longer than the tallest partner.
Matching Mattresses to Bases
If you are buying mattresses and bases separately or mattress only, take care, as most manufacturers spend a lot of time making sure specific mattress designs are supported by a complementary base. Most of the time, your warranty will not be valid without the matching base. If you are not going to be using a base, be sure the mattress you have chosen is compatible with your bed frame. Slat systems must not have large spaces between the boards and must be designed to handle the weight of the mattress you have chosen.
If you suffer from a bad back, check with your doctor on what they may recommend. Do not assume that a mattress with a medical sounding name will be any better for you than a standard one. These medical names usually only mean they are firmer. Although a firm mattress can provide relief for some lower back pain, an overly firm bed could aggravate a back condition. The basic rule of thumb: get a quality mattress that is supportive and comfortable to you.
Allergy and Asthma Sufferers
All mattress will, in time, attract house dust mites. Regular cleaning, airing, and the use of protective covers will reduce the effect. People suffer from a variety of allergies. Be sure the mattress you are buying does not contain any materials that may affect you. Natural fibers are generally the best and typically inhibit dust mites, mold, and mildew.
If you are undecided about two or three equally suitable products, think about the service and support that may suit you best.
Comfort and support are the two key factors to look out for when choosing a mattress. Comfort is extremely subjective and based on each individual's preference. Support should be guided by factors such as your height, build, and preferred sleeping position. Further, the mattress support should ensure you achieve good 'posture' in mattress. Allow plenty of time when trying out beds and do not be rushed. Take these steps:
Comfortable Clothes
Ensure you are wearing comfortable clothes, take off shoes and overcoats, and lie on the mattress on your back. Slip your hand between the base of your spine and the mattress. If you can not easily do this the mattress may be too soft. If there's no hollow space the mattress may be too firm. Ideally your hand should be a snug fit.
Sleeping Position
Adopt your normal sleeping position. Try and lie for several minutes, typically 10 minutes is required. Ideally, the mattress should mold to the shape of your body and feel supportive. When you lie on your side, your spine should remain horizontal and you should be able to turn easily.
Try with Everyone
Try the mattress with everyone that will be using it. If you and your partner are quite different in size and weight, it may be that you need different mattresses. This is possible by having two single mattresses zipped together.
These are the most common type of mattress in Canada. The number of springs and the thickness of the metal used affect the feel and determine the support-generally, the more springs, the better the support. Open springs are found in the budget to mid-price brand of beds. Rows of springs are connected top and bottom by a spiral wire and the edge of the unit is normally strengthened by a retaining flat or round rod edge. Most are heat treated for improved tensile strength and durability.
Continuous springs are made of one unbroken piece of wire knitted into a series of interwoven springs linked vertically rather than horizontally. Usually, the gauge of the wire is thinner and the coils smaller giving a higher spring count and a softer, more responsive feel. These coils are typically in medium priced units. Pocket springs are rows of smaller, lightweight parallel or barrel-shaped springs, each in separate fabric pockets. The rows of springs are clipped, tied, or glued together. Pocket springs allow for a more flexible response, giving a higher degree of body support and individual sleep space, and are found in the mid-upper priced brands.
Mattresses without Innersprings
Most mattresses without innersprings are made from latex or standard foam. They are relatively light in nature and do not usually require turning. Typically, when sleeping on these types of mattresses, your body will mold into the bed. This will give you a good cocoon feeling, however, you can be woken when trying to turn into a new position, as the mattress will need time to reform to this new position.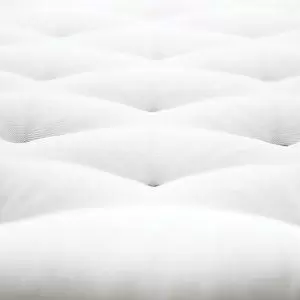 Ticking is the name for the outer cover of the mattress, which in combination with the tufts or quilting keeps the fillings together. Tufting is the traditional way of holding the fillings together and is achieved by passing cords through the mattress and securing them with wool tufts. The most commonly used upholsteries in quality tufted mattresses are wool and cotton felt. The type, quality, quantity, and combination of these and other fillings will determine the overall comfort of the mattress.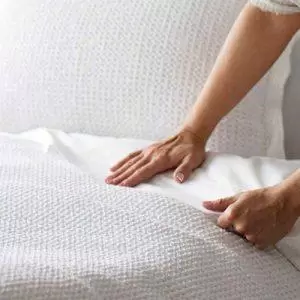 To prolong the life of a bed, it is important to follow the care instructions. Always air it for at least 20 minutes before making it, and turn the mattress as instructed by the manufacturer to even out wear. Use a mattress protector when recommended, though not all beds require it; and in general, do not abuse the mattress.